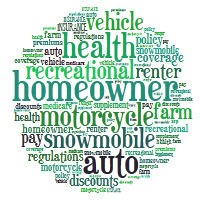 You need insurance in many areas of your life. But figuring out what insurance you need and how much to spend can be a daunting task, and the first step is to understand what insurance is all about.
We believe that the best way to help you obtain the right coverage at the best possible price is to help you understand insurance. Here, you can learn more about the insurance coverage you may need; we provide the tools for you to learn about the different types of policies and their benefits, costs, and limitations.
Have you ever been curious about what a homeowner's policy covers? Or whether auto insurance protects the extras you added to your car, like a stereo and alloy wheels? Our
Resources
page has answers to questions like these, but it also offers so much more.
Want to find out how long it will take you to pay off that new car you've had your eye on? Have you ever wondered how much house you can afford? Check out our
Calculators
.
Are you curious about whether your new diamond jewelry is covered under an existing policy? Or whether the stuff in your basement is covered if your hot water heater bursts? Check out the Articles.
What's the difference between comprehensive and collision coverage? See the Glossary.
Once you have an idea of the type of policy you need, visit the Quote Center. We'll ask you for some simple information and then get back to you with some policy recommendations.
We want your insurance to work hard for you and your family. Let us help you find the right protection while giving you the peace of mind that comes with knowing you are covered.
Thanks for visiting our site. We look forward to working with you.
For your convenience, our companies can provide you with investment services, as well. Please visit the Investment Center's Website by clicking here.